Suspension & Brake Repairs – Narara, New South Wales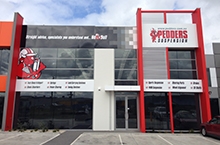 Just an 8 minute drive from Narara, the Pedders West Gosford store offers easy service access, from a local team of dedicated suspension and brake specialists. Tackle any repair necessary to get you back on the road quickly.
If you are looking for tested, performance-ready auto parts — the West Gosford store is your one stop shop for:
• Brakes
• Shock absorbers
• Coilovers
• Suspension Kits
• Lift Kits
• 4×4 Accessories
Our brake repair service provides peace of mind, knowing your vehicle is dialed in and ready to go before you embark on longer trip, where anything can happen.
Get an expert opinion if you notice your vehicle acting strangely. Our advanced brake specialist will perform the necessary checks, give you a clear, no-nonsense briefing of what your brake system needs, and provide upgrade options if you are interested.
Services are available for any 4×4 vehicles, passenger cars, trucks and performance cars.
Our Narara customers are served by our Pedders West Gosford store.
Pedders. Australia's leading source for auto parts and repairs.