TrakRyder Toyota Prado Suspension Upgrade Kits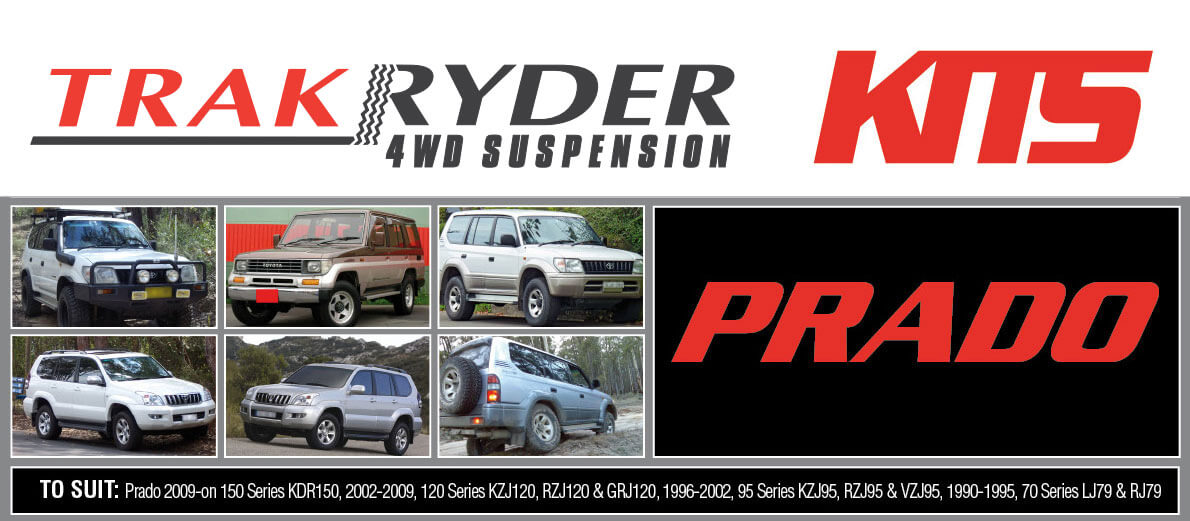 Click to download the entire Prado Kits range:
Upgrade kits complete with shock absorbers, brakes, coil and leafs springs and more for your Toyota Prado
If you are looking for a tailored solution to the suspension needs of your Toyota Prado, you can't beat the TrakRyder kits from Pedders. Our Prado lift kits incorporate shackles, U-Bolts, torsion bars, suspension bushes and more to deliver the most optimised and effective improvement to the handling of your vehicle.
Specifically, our Toyota Prado suspension upgrade kits are created to make the off road performance of your car reach its full potential. A lot of thought and care goes into ensuring the specifics of your vehicle's make and model are considered in the design of these upgrade kits, so you can feel confident fitting our shock absorbers, coil and leaf springs, airbags, and more.
Pedders equips our upgrade kits with all the necessary parts needs for your Toyota Prado's improvement. We understand that some of our customers like to customise their vehicles further, though, so we also offer various additional parts to choose from. All of these parts are offered in our various outlets located throughout Australia.
Use the links below to determine the right custom made TrakRyder Prado lift kit for you, and learn more about our various U-Bolts, alignment kits, torsion bars and more. Alternatively, click on the PDF most relevant to the make and model of your Toyota Prado.
Pedders offers ½ inch, 1 inch and 2 inch lifts, for the Outback, Touring and Expedition ranges. Everything we provide aims to make it easy for you to fully customise your Toyota Prado's suspension to your preferences.
Right across the country, our various outlets also supply upgrade kits for the Toyota Hilux, Toyota Landcruiser, and many other makes. Click on the link most relevant to your needs today, or visit your local Pedders to discuss your options with one of our Toyota Prado suspension kit experts.
Equivalent International Model Listing Directory
Lexus GX470 (V8) – refer to Toyota Prado 120 Series
Toyota Bundera LJ70, RJ70 – refer to Toyota Prado 70 Series
Toyota Challenger – refer to Toyota Bundera & Prado 70 Series
Toyota Landcruiser 120 – refer to Toyota Prado 120 Series
Toyota Landcruiser 90 – refer to Toyota Prado 90 Series
Toyota Landcruiser Colorado – refer to Toyota Prado 90 Series
Toyota Landcruiser II – refer to Toyota Prado 70 & 90 Series
Toyota Landcruiser Lightduty – refer to Toyota Prado 70 Series