TrakRyder Toyota FJ Cruiser Lift Kits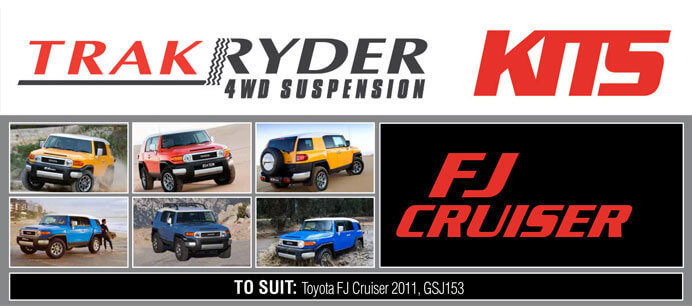 Click to download the entire FJ Cruiser Kits range:

Get the most out of your Toyota FJ Cruiser by improving its handling and performance with a TrakRyder FJ Cruiser suspension upgrade lift kit from Pedders. Through our outlets across Australia, we are able to provide advice, assistance and a great range of products to residents from all over.
The Toyota FJ Cruiser suspension kits include:
Front Gas Sports Ryder Spring Seat Shock Absorbers
Front Foam Cell Spring Seat Shock Absorbers
Front Shock Absorber Mounts
Front Standard Coil Springs
Front Raised Coil Springs
Rear Gas 4X4 Shock Absorbers
Rear Foam Cell Shock Absorbers
Rear Standard Coil Springs
Rear Raised Coil Springs
Talk to an expert at your local Pedders outlet today about how these parts and our other optional extras can improve the performance of your Toyota FJ Cruiser.