TrakRyder Mazda BT50 Suspension Upgrade Kits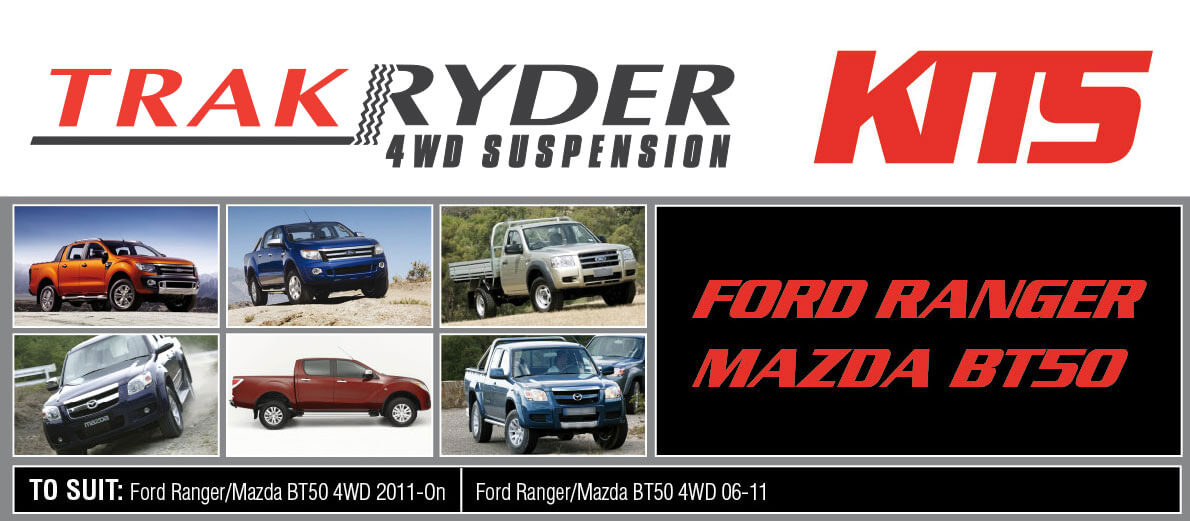 Click to download the entire BT50 Kits range:

Only the best shock absorbers, coil and leaf springs and more for your Mazda BT50
If you are looking for Mazda BT50 lift kits that are specifically designed to cater for and improve the handling of your vehicle, trust the Pedders TrakRyder kits range. Our TrakRyder upgrade kits are equipped with various performance enhancing parts like shock absorbers, airbags, brakes, torsion bars, U-Bolts, and much more.
Each of the suspension kits we provide are designed to make the overall off road experience of your Mazda BT50 vastly better. Offering all the necessary parts to do so, plus many optional extras for those who want to truly personalise the way their vehicle handles, you can pick up your own TrakRyder Mazda BT50 suspension upgrade kit from one of our numerous outlets throughout Australia.
Using the links below, you can find out more about these custom kits, and how these alignment kits, shackles, suspension bushes and more can radically improve the way you drive. Click on the relevant PDF for the make and model of your Mazda BT50 and discover the many options available to you.
We offer packages tailored toward the Touring, Expedition and Outback ranges. Options include ½ inch, 1 inch and 2 inch lifts; a flexibility not offered by many other Mazda BT50 suspension upgrade kits in Australia.
Right across the nation, Pedders also stocks TrakRyder kits designed for Toyota Hilux, Toyota Landcruiser, and Toyota Prado models. Discover more information by clicking on the relevant link or by visiting the closest of the many Australian outlets near you. We'll get you on track to improve your Mazda BT50's suspension in no time!
Equivalent International Model Listing Directory
– Ford Courier – refer to Mazda B Series, Karere & Proceed
– Mazda BT50, B2500, B3000