Nissan GU Patrol GVM Upgrade Kits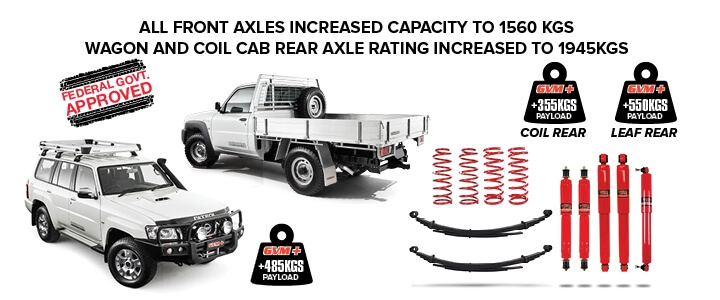 Pedders offers a GU Patrol GVM+ upgrade solution for selected Nissan Patrol GU models that vastly improve your vehicle's GVM rating, offering greater load-carrying capability and enhanced handling.
The Nissan Patrol GVM Upgrade Kits have been fully certified and are backed by Pedders 2 Year/40,000kms Nationwide Warranty. The kits increase the GVM rating for GU Model Wagons and Utes with Coil-spring rear suspension to 3505kgs, while Utes with leaf-spring rear suspension have a GVM rating of 3950kgs.
This results in a payload increase of:
485kgs for Wagon models
355kgs for Coil Spring Utes
550kgs for Leaf Spring Utes
Click the links below to download the Pedders GVM+ Upgrade Kit Flyer:
Nissan GU Patrol GVM Upgrade Kit
---
Pedders also has GVM upgrade kits for Ford Ranger, Nissan Navara D40, Nissan Navara GU Patrol, Nissan Navara D23-on, Toyota Landcruiser 76 Series 99-On, Toyota Landcruiser 78/79 Series 99-On, Toyota Landcruiser 200 series 09/2007, Toyota Hilux GUN123R/GUN122R/GGN120R/TGN121R 2WD, Toyota Hilux GGN25R/KUN26R 4WD, Toyota Hilux Series GGN125R/GUN125R/GUN126R 4WD, Toyota HiAce LWB, Toyota HiAce SLWB, Mitsubishi Triton, Holden Colorado, Holden Colorado RG2, VW Amarok, Hyundai iLoad and Mazda BT50 models.
Find out more about our complete range today by clicking on the relevant link, or visit your local Pedders outlet.